5 Best UPI apps for Android
Thanks to the introduction of UPI, payments have become easier. Receiving and sending payments from one another is much more convenient. The hassle involved with connections from bank and wallets is dramatically reduced.
But this poses a new question… What is the best UPI app?
Google Play
is stuffed with a plethora of apps claiming to be the best of all UPI apps. Even banks have their UPI apps!
Before we begin let me address a common "myth" in term of UPI apps.
Many people tend to think that apps made by other banks cannot be used by them. This isn't true. UPI is bank independent so no matter what your bank might be, you can use any of the apps you like.
So, which one will suit you the best? Let's find out!
List of Best UPI Apps for Android
Bhim
The first app in our list from Government of India (
NPCI
). Having said that the app is very simple and fast. The UI makes everything just more convenient. Another good feature is that availability. The Bhim app is available in several Indian languages which might be helpful for people who cannot interpret English well.
BHIM app also includes scan and pay feature. You can even create custom UPI address with this app. The user experience is so clean that you may feel at the time that it lacks standard UPI features. But, to everyone's surprise, the app has every feature you may need. That includes changing UPI pin, scanning QR codes, and balance check.
PhonePe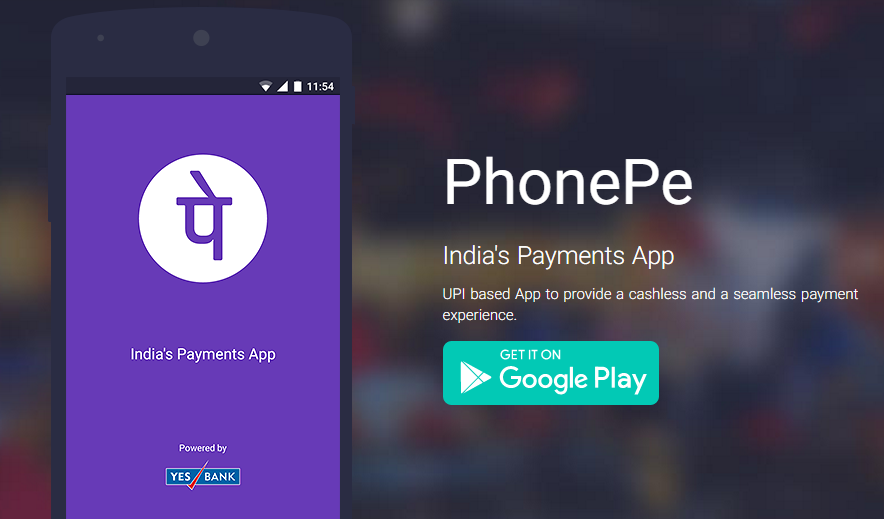 Launched in 2015 by the founders of Flipkart, PhonePe is one the most popular UPI app available on the Google Play. The app, not just another UPI app. The app lets you pay to QR codes from your phone gallery. The app lets you pay mobile bills, DTH, Broadband, Landline, Gas and electricity bill. The app also lets you pay via UPI on the Flipkart app. The simple design with compacted features has fetched more than 10 million downloads.
SBI Pay
As the name suggests, the app is from SBI (State Bank Of India). The application is pretty much a standard application. It's secure and really simple to use. You get features like managing beneficiary, paying via VPA and QR codes. Every option is located the home screen itself.
What makes SBI pay really interesting is support for multiple accounts. You can add multiple bank accounts. This feature makes things really simple if you have a separate business and personal bank account. The only thing that's not good about the app is load time. The app operates slowly but hopefully, it would get fixed over the updates.
*99#
Meet the UPI app that works offline too! Did I write something wrong? Absolutely not. The app does work offline as well. How? The app relies on a USSD based payment system. Just so that you know you can dial *99# to pay via UPI. The app relies on that system. If you live in an area with an unstable internet connection this app will be helpful for you. There are even features like pattern lock and balance check built into the app.The app supports almost all national banks.
Axis Pay
Last but not the least we have Axis Pay from Axis bank. Axis Pay is probably the most beautiful UPI available. On the main screen, you are offered with only two options and other features are condensed in the menu. However, this may cause a delay in speedy tasks (like quick bill payments). The application is protected by the 6-digit code. You can also generate QR code to pay.
Which one is your favorite? Don't forget to tell in the comments below!